---
What is Arrow-Fix
reliable, fast, economical
Arrow-Fix is a tool to work on wood and bamboo shafts. It works quasi like a pencil sharpener and a drill in one. With a taper and an inner cone, it is easy to repair or optimize the shafts.
It creates a repair joint by making a taper which perfectly fits into a tapered and drilled bore.
Arrow-Fix can be used with a power drill or by hand. It is a portable tool and can be used out in the field.
Even 'Oetzi' the iceman from the European Alps used this method 5.000 years ago to prepare his arrows with hardwood footings.
In former Japan it was common practice to use this method to repair and optimize arrows with.
Arrow-Fix is registered in the European and U.S. Patent and Trademark Office.
---
The method
The conventional method of repair can sometimes not withstand the shear force caused upon impact, thus resulting in breakage upon the repaired area. With conventional means, shaft repair involves applying large amounts of glue to a lengthy sharp angled splice joint running along a portion of the arrow shaft.
It is not possible for shear force to damage an Arrow – Fix repaired spot. Arrow – Fix is based on a conical joint principle where no shear force can occur.
The conical repaired area is very minimal in depth and the visible repaired joint would be around 1/25th of an inch, meaning that the needed quantity of wood and glue is at a minimum.
Shafts can be repaired on the whole length up to the fletching.
To align the repaired shaft is easy because of its conical joint principle it is self aligning.
It is easy to combine different materials and different diameters like hardwood footing on bamboo shafts.

To repair barreled shafts is a piece of cake.
---
What Arrow-Fix can do
Arrow-Fix can be used in the repair of various wood types including bamboo and is able to repair three separate shaft diameters (5/16", 11/32" and 23/64"). It implements the following functions:
Cuts nock tapers
Cuts point tapers.
The conical drill bit cuts an inside taper enabling it to fit with an outer cone for the arrow repair.
Has a V-block for the arrow to rest on while the glue fully cures in the repaired area.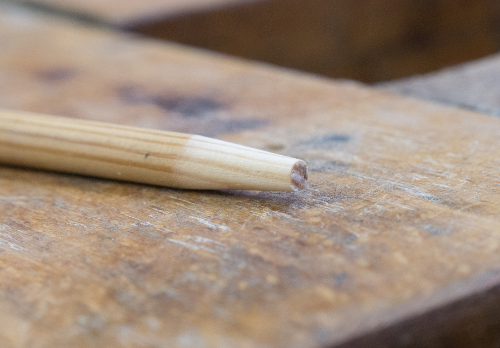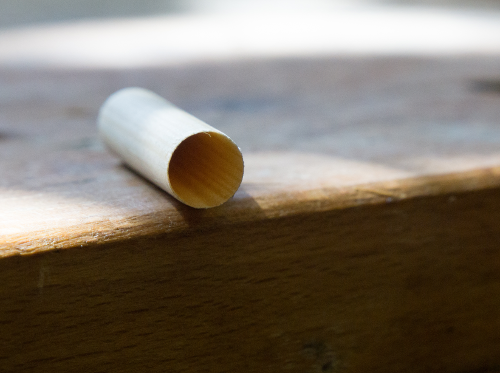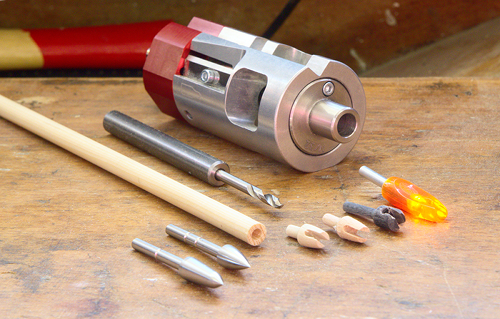 ---
Special features
The main body of Arrow-Fix consists of a robust aluminum alloy.
To insure that the Arrow-Fix drills into hard woods such as locust, bamboo, osage etc. we have designed a special geometric conical drill bit which has been milled from HSS performance tool steel. (HSS is a German high quality standard for tool steel).
The blades are made from high performance tool steel for a lasting edge.

The blades are interchangeable and can also be used for the PT Power-Taper.

Interchangeable sockets for 5/16", 11/32" and 23/64" diameters are available for tapering and drilling. There are more to come upon request.

The sockets are available in aluminium and stainless steel and can be also used for the PT Power-Taper.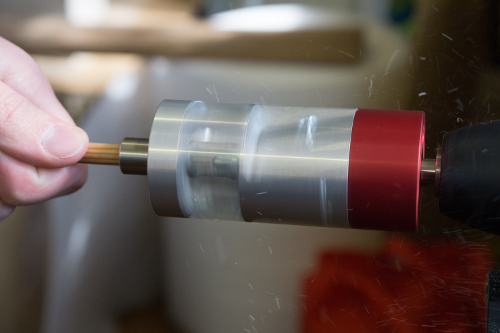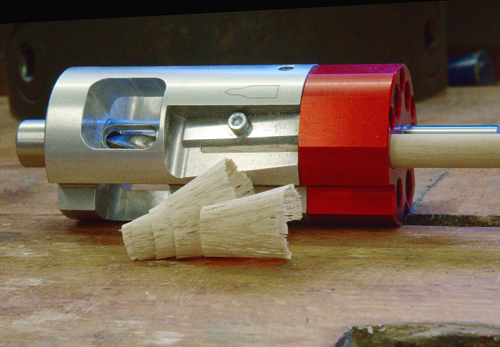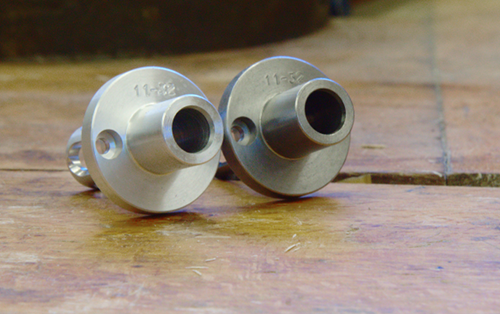 ---
Stainless steel or aluminium
When working with aluminium sockets the friction causes black marks on the wooden shafts. The black marks come from the lead in the aluminium alloy. These marks can be easily removed with sandpaper.
Stainless steel sockets don't have lead in the alloy and don't cause black marks on the wood.
Stainless steel sockets are harder than aluminium sockets and are the better choice when working with bamboo or hardwood footings like beech and osage etc.
---
There are many advantages
Conical joint without causing shear force.
Easy joining of different shaft materials and different shaft diameters.
The conical repaired area is very minimal in depth and the visible repaired joint would be around 1/25th of an inch, meaning that the needed quantity of wood and glue is at a minimum.
No noticeable change of the spine (flexibility) of the shaft after the repair.
The whole length of the shaft up to the fletching can be used for repairs.
All cutting tools like blades and drill bit are made out of high quality tool steel with 58 HRC (hardness).
Blades and adapters are interchangeable with the PT Power-Taper.
The time spent and the glue used at the repair bench is minimal with the Arrow-Fix at hand.
It will pay for itself only after a few repairs!
Arrow-Fix is designed and made in Germany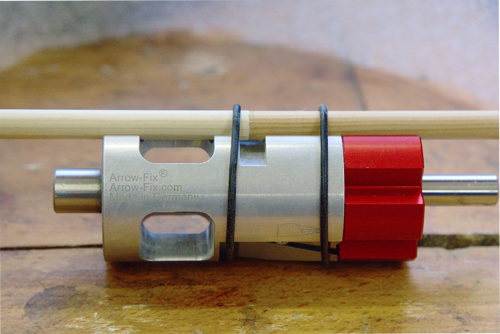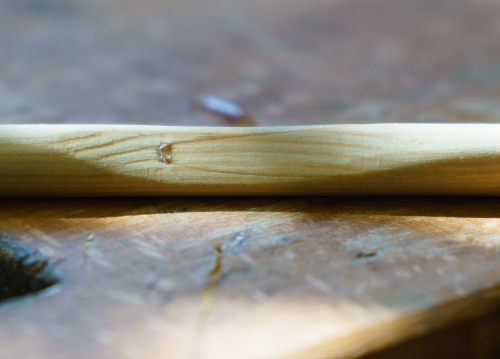 ---
Drawbacks?
It is extremely addictive :-)